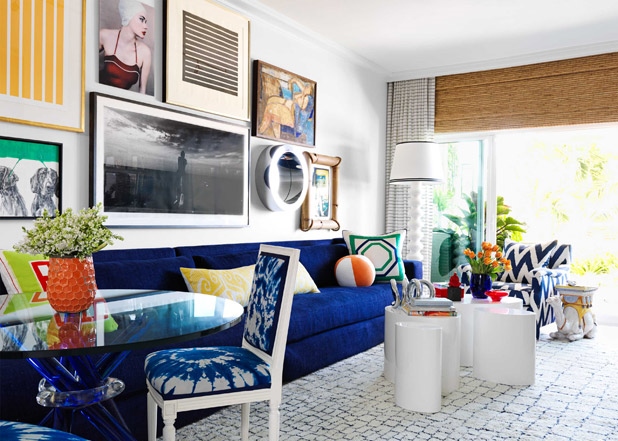 Feeling blue?  Then try these design ideas to brighten up your home.
Rich, royal blue furnishings are set against white walls and flooring in this bright living room.  Splashes of yellow and orange add warmth into what could be a chilly scheme.
In this bedroom the predominantly white furniture and furnishings are set in contrast to the vibrant turquoise accessories.
The second bedroom and bathroom echo the royal blues used in the living room.  The subtle use of texture also brings warmth into the rooms.
The kitchen and bathroom use sharp lines and hard surfaces to portray cleanliness, accented with aqua blues and greens to mirror the use of water in the spaces.
The oversize light and cushioned seating add an informal air to the veranda.  The use of natural wood and varied planting makes this the perfect spot to relax!
Photos of Designer Robert Passal's art-filled Miami Beach House by House Beautiful.