As the weather grows warmer and the days grow longer we naturally gravitate to spending time outside.  Whether you are lucky enough to have a large garden or simply a small outdoor space, it brings joy to the soul to feel the sun on your face and the breeze on your skin.
The opportunities to be creative with your outdoor space are endless.  From a simple café table and chair with a plump cushion and cosy throw to a full blown outdoor living room complete with sofas, rugs and pizza oven!  Here, at Emma Drohan Interiors Ltd, we love creating bespoke outdoor spaces and are happy to share some of our ideas with you.
Firstly, decide on how you want to use your garden.  Is it for entertaining, lounging and relaxing, picnics and BBQs or a quick coffee in a sunny corner?  Or maybe you want it to have many uses if you have the space.  Make a note of how the sun moves around your garden.  A sunny spot for a morning coffee or a shaded area for lunch in the heat of the day.  Make the most of the evening sun with a dedicated space for sundowners.
A covered area is perfect for our unpredictable English weather.  At home we have an old car-port that we are planning to make into an entertaining space by adding an outdoor chandelier, such as the Fatboy Rockcoco, and Moroccan style floor tiles from Fired Earth.  I fancy building a wood-fired pizza oven from scratch, but you can also buy them off the shelf.  I have been looking at the fabulous range of outdoor fabrics by Christopher Farr Cloth for some bespoke cushions and large geometric rugs made from recycled plastic from Weaver Green.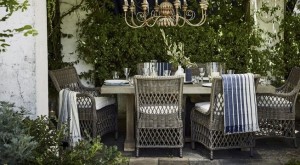 Photo credit: Neptune
If you do not have an unused car-port or veranda, then a large umbrella or shady tree is a perfect place to hang some lights and scatter some rugs and cushions for an impromptu picnic.  Or how about a Bedouin tent lined with colourful fabrics and fairy lights?  Go for an Indian or Moroccan theme with sari fabrics, rugs and scatter cushions.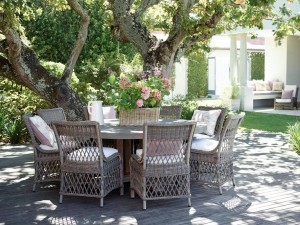 Photo credit: Neptune
Summer houses are the ideal place to unwind and relax.  Furnish it with an old sofa, rugs and a coffee table for a homely feel.  Curl up with a good book on a sunny afternoon, have a play-date retreat for grown-ups or entertain guests with pre-dinner cocktails.  If you are able to run power to your summer house you can install some lamps and even a coffee machine or fridge for ultimate luxury. Plenty of candles will give a beautiful glow once evening falls and why not create a lit path to the door with rows of hurricanelamps.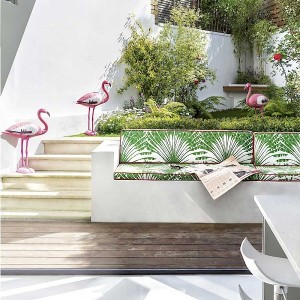 Photo credit: Christopher Farr
Comfortable seating is a must for outdoor entertaining.  I like the range that Neptune and Garden Trading offer.  A long dining table with plenty of chairs is essential when BBQing or hosting an al fresco dinner party.  Place folded blankets on the back of each chair for when the evening grows chilly and don't be afraid to use a pretty table cloth and your best china for special dinners.  Sectional seating, sofas and armchairs are readily available in a variety of weather proof materials and fabrics.  Group round a low coffee table or fire pit to create a relaxed conversation area.  Add pops of colour with bright cushions and blankets and shade with a cantilevered parasol.
For further inspiration or help with any of the above, Emma Drohan Interiors Ltd offers space planning, colour consultations and a full design, make and installation service.  All the brands mentioned are available through Emma Drohan Interiors Ltd.  Accessories can be purchased through the EDI Boutique at www.emmadrohan.com.
Contact Emma on [email protected]