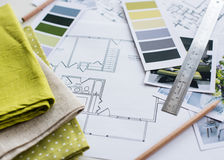 Emma Drohan Interiors specialise in providing high-end bespoke interior design solutions for discerning clients. From soft furnishings to full house transformations, Emma offers a comprehensive design service that will enable you to unlock your own unique personal style and transform your space.
Emma, a mum to two growing boys, has an excellent understanding about the demands of family life and particularly enjoys helping other families to create practical yet stylish surroundings. With a background in fine arts, she also has experience of working on a wide variety of interior design projects from period houses to contemporary, new build properties.
Emma, who describes her own personal style as elegant and eclectic, is currently renovating her family home, a farmhouse in rural Nottinghamshire, with her husband.
Images on the Home page courtesy of Harlequin, Scion and Sanderson.